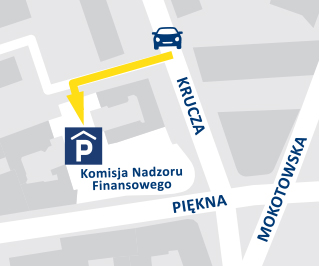 24-hour underground parking lot Piękna 20 is located in a building hosting the seat of the Financial Supervision Commission, at the intersection of Piękna and Krucza Streets. The car park entrance is from Krucza Street.
In the immediate vicinity there one can find the Masovian Voievode's Office, with the Passport Bureau, Polonia Theatre, the US Embassy, ​​and Mokotowska Street with its many boutiques of fashionable designers, restaurants and cafes as well as office buildings and public utility buildings.

Entry and exit: 24/7, all days of the week.

The car park is equipped with a CCTV monitoring system and intercoms. With this support, well-trained staff of the 24-hour National Operations Centre can provide technical assistance at any time and help you find the way. What's more, the car park is under ongoing supervision of the building's security guards.

Payment for parking can be made at the automatic machine, using a card or cash.
If you hold the Pcard+ card, the payment is credited to your account.